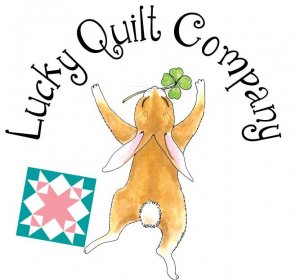 Cozy Shop & Gathering Spot

423 Main St. Pecatonica, IL
(815) 239-1026
Hours: Tues, Wed, Thurs, Fri 10 - 5
Sat 10 - 3
Closed Sunday & Monday
Visit our website & shop online at www.luckyquiltcompany.com

Grab a fresh cup of coffee and join Cassie
LIVE on Lucky's Facebook Page
Saturday morning, April 16 at 9:00
HERE
You'll get a peak at fresh spring arrivals & great deals on
Spring & Easter Projects.
Take a preview HERE of what will be offered tomorrow
See you at 9:00 a.m. Sat morning
on Facebook
All are welcome to enjoy the Easter Activities
in Pecatonica on Saturday, April 16
(and don't forget to bring your knives & scissors to be sharpened!)

Lucky will be at the Madison Quilt Show in September :)



All Aboard!
Lucky is chartering a Van Galder deluxe motor-coach to the Madison Quilt Show on Thursday, Sept 8. Bus will leave Pecatonica at 8:00 a.m. and return at approx 5:00 p.m.
Price includes bus fare, show ticket, an exclusive Lucky Shopping Bag for your use at the show, bottle of water in the morning and a bottle of water and healthy snack on the way home. PLUS enjoy optional games while on the bus to win prizes!!! Hop onboard, relax and enjoy the ride and don't worry about driving or parking!!!
Refunds provided if you need to cancel your reservation thru Aug 31. Gather your friends and reserve your seats today at the following link online or stop in the shop at 423 Main St. Pecatonica or call us at (815) 239-1026!!! Click the link to register your seat online:
Visit Lucky Quilt Company & shop online at:
www.luckyquiltcompany.com