Butterfly Patch Quilt Pattern

Finished size 66" x 66"


Club House

Finishes approx 50" x 50"


Enchanted Wonky

Finished size is 23:x 32". Includes pattern, instructions, and color photograph. Learn to sew hexagons, wonky log cabin blocks, dresden wedges and so much more!


Faith Home Road

Perfect pattern for panels approx 24" x 40" Finished size 62" x 80" or leave off a border or two for smaller size.


Fall Breeze

Fall Breeze


Fancy Forest by Elizabeth Hartman

Pattern for 2 sizes: 67" x 91" and 35" x 47"


Farmhouse Parlour

By Kristyne Czepuryk of Pretty by Hand Approx Size: 64" x 72"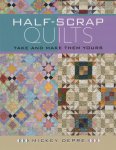 Half Scrap Quilts by Mickey Depre
Hexie Garden

Pattern for Lap, Twin and King size quilts.


Honor

Quilt 57in x 76in


Johnny Jump Up

Johnny Jump Up


Leftovers

Pattern for Child, Throw and Full/Queen Size Quilts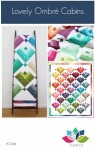 Lovely Ombre Cabins

Lovely Ombre Cabins finished size 75" x 92"


Lucky Stars

Pattern for Kids (45" x 60"), Lap (60" x 75"), Twin (75" x 90"), Queen (90" x 105") and King (120" x 120")


Mapleton Avenue

Mapleton Avenue


Nesting

Nesting


Oh Baby

Pattern for 40" x 40" Quilt and Matching Baby Boot


Ombre Picnic

Finished Size 68" x 82"


Picnic Quilt

Picnic Quilt


Pieced Hexies Deux

10 New Designs to Rock Your Quilts


Quick Curve Mini Ruler Pattern: Mini Citrus
Quick Curve Ruler Pattern: Chic Country

Chic Country


Quick Curve Ruler Pattern: Chic Kisses

Chic Kisses


Quick Curve Ruler Pattern: Curve It Up Sampler Pattern

Curve It Up BOM/12


Quick Curve Ruler Pattern: Urban Nine Patch

Urban Nine Patch


Radiant

Any fat quarter collection looks radiant in this simple, appealing design. You'll just need a light & dark accent to set the stage for a wonderful performance. Baby 41-1/2" x 50", Throw 62" x 71", Twin 80" x97", Queen 97" x 97", King 105" x 113".


Ring Around The Hexies

Hexies make a splash in this bold, yet traditional wallhanging. Make a full-sized quilt with the optional bed-sized diagram.


Salute

Finishes 63" x 72"


Sea Salt Quilt

Quilt on cover made with Toweling by Moda Finishes 80" x 80"


Snowflakes In July

Throw Size Patriotic Quilt Pattern Finishes 60" x 71"


Soda Pop Quilt Pattern

Pattern for various sizes from Small Lap to Queen Size


Square Deal

Pattern for Lap and Twin Size Quilts


Technicolour

Layer Cake Friendly. Finishes at 55" x 63"


The Club House P240 Quilt Pattern

The Club House Finished size: 50" x 48"


Together Quilt Pattern

Quilt finishes 64-1/2" x 75-1/2"


Welcome Home In Spring

Finishes to 56-1/2" x 64-1/2" 9 Blocks


Woodland Stream

Pattern for a Topper, Throw and Queen size quilt.