Bookworm Library Bag

Bookworm Library Bag


Bowl Me Over - 30 Petite Bowl Fillers

A Bounty of Tiny Pillows to Enjoy Every Day


Christmas Stockings & Ornaments Panel

Christmas Stocking & Ornaments Sewing Panel PERFECT for kids or beginning sewist


Cute & Clever Totes

Cute & Clever Totes


Ditty Bag

Finishes 7-1/2" x 9"


Eat Cake Collage 45" x 60"

Collage Pattern


Frosty Fun Quilt Pattern

46-1/2" x 57-1/2" It's snowing, let's go outside! With rosy cheeks and toasty toes, we're ready for some frosty fun.


Fun Size Quilts

Fun Size Quilts


Grampa, Please Tell Us A Story

Five Spirited Stories of Daring and Adventure!


Hat Hat Hooray! Quilt Pattern

The snow is blowing and it's cold outside. Handmade hats and warm scarves will chase the chill away. Pattern makes 4 sizes, nap, lap, twin and full.


Heart To Heart Pattern

This charming quilt is made using multiple fabrics in two colorways. Choose red as shown on the pattern or get creative and choose your own colorway. Quilt finishes 36" x 36"


Keep Calm Embroidery Pillow Pattern

Pattern for 12" x 16" Pillow Form Cover Need 1 yd toweling and nine 2-1/2" squares of coordinating fabric


Little Quilts 4 Little Kids - Softcover

10 Quilt Patterns for Baby On Up!


Lost Socks

Lost Socks


Mini Log Cabin

Finished Size 21" x 26"


Moda All Stars:Two Four Sx Eght

Moda All Stars:Two Four Sx Eght


Morning Star Quilt Pattern by Missouri Star

Quilt finishes 60" x 60" 1/4 yd of 25 different solids or blenders 1/2 yd each of 9 different backgrounds 3/4 yd binding 3-3/4 yd backing


Parallel Quilt Pattern

Quilt finishes 65" x 65" Need (40) 5" x 5" squares OR assorted fabrics totaling 3/4 yds 3-1/4 yds background 1/2 yd binding 4 yds backing


Pieced Hexies Deux by Mickey Depre

10 New Designs to Rock Your Quilts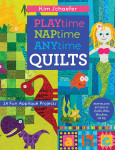 Playtime Naptime Anytime Quilts

14 Fun Applique Projects


Quilt Essential

The Go-To Reference for Today's Quilters and Fabric Junkies


Ring Around The Hexies

Hexies make a splash in this bold, yet traditional wallhanging. Make a full-sized quilt with the optional bed-sized diagram.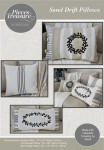 Sand Drift Pillow Patterns

Pattern for Square Pillow: 16" x 16" Oval Wreath Pillow 16" x 28" Mini Wreath Pillow 22" x 15" Pillows on cover made with Lakeside Toweling by Moda (See links below to shop the Lakeside Toweling Collection)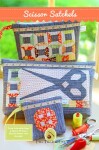 Scissor Satchels

Scissor Satchels


Spice Town

Pattern for 6in x 10in, 7in x 8in, 9in x 10in Wool Pumpkins


Temptation Wool Applique

A charming country wool penny runner pattern finishes 19-1/2" x 8"


Time for Tea Wall Hanging & Cosy Pattern

Pattern for a Tea Time wall quilt 34" x 28" and a tea cosy 15" x 12" with removable liner. Full size templates for fusible applique are included.


Topiary 60" x 72"

Collage Pattern


Turn Style Quilt Pattern

Quilt pattern for 10" squares Finishes at 85" x 85"


Umbrella Pattern Book

Umbrella Pattern


Vintage Valentine #5

One pre-printed, pre-colored design approx 3.5" x 7"


Whatevers #12 Cupcake 8" x 8"

Collage Pattern


Whatevers #13 Gus 8" x 8"

Collage Pattern


Whatevers #2 Peacock 8" x 8"

Collage Pattern


Zen Chic Inspired

Zen Chic Inspired