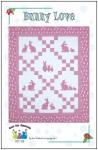 Bunny Love Quilt Pattern

Bunny Love


Club House

Finishes approx 50" x 50"


Enchanted Wonky

Finished size is 23:x 32". Includes pattern, instructions, and color photograph. Learn to sew hexagons, wonky log cabin blocks, dresden wedges and so much more!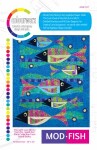 Mod Fish

Finishes 36" x 47" Wonky strip piecing & easy applique shapes make this cool school of mod fish fun to stitch!


Oh Baby

Pattern for 40" x 40" Quilt and Matching Baby Boot


Sew Magical For Baby

Sew Magical For Baby


Super Hero

Makes quilt sizes 24" x 28", 36" x 42" and 48" x 56"