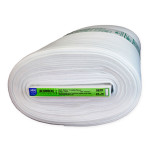 987F Pellon Fusible Fleece

Lofty fusible fleece for apparel and crafts. Machine wash warm & tumble dry medium or dry clean. Will need one half yard to make 2 Fresh Bouquet Placemats and one half yard to make the fresh bouquet table runner.


Bo Nash Giant Sheet 12inx18in

The high quality coated fiberglass can withstand very high temperatures to make all crafting projects easier, cleaner & quicker. See through, double sided, easy to use and clean. NOTHING sticks to it! Use for applique, fusibles, and more!