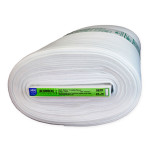 987F Pellon Fusible Fleece

Lofty fusible fleece for apparel and crafts. Machine wash warm & tumble dry medium or dry clean.


Bo Nash Giant Sheet 12inx18in

The high quality coated fiberglass can withstand very high temperatures to make all crafting projects easier, cleaner & quicker. See through, double sided, easy to use and clean. NOTHING sticks to it! Use for applique, fusibles, and more!


Steam A Seam 2 Lite Double Sided Fusible

Double stick fusible for a temporary hold for placement. Applique pieces stay in place and are still repositionable until fused with an iron.