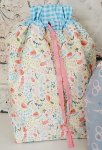 Sweet Cinch Sack KIT - Medium

Medium Finished Size: Approx 16" high x 9" wide x 7" deep Kit includes the Whimsical Floral for exterior bottom, Sunny Gingham for the lining, Sky Blue Gingham for the top, Petal Pink for drawstring and Fusible Fleece.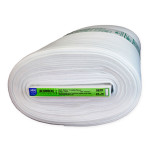 987F Pellon Fusible Fleece

Lofty fusible fleece for apparel and crafts. Machine wash warm & tumble dry medium or dry clean.