Club House

Finishes approx 50" x 50"


College Student Laundry/Tote Bag

The laundry/tote bag measures 21.5 inches by 32.5 inches.


Enchanted Wonky

Finished size is 23:x 32". Includes pattern, instructions, and color photograph. Learn to sew hexagons, wonky log cabin blocks, dresden wedges and so much more!


Grampa, Please Tell Us A Story

Five Spirited Stories of Daring and Adventure!


Grandma's House Backpack

Charming Backpack Finished Size 14-1/2" x 18-1/2"


Little Quilts 4 Little Kids - Softcover

10 Quilt Patterns for Baby On Up!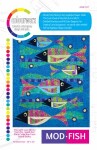 Mod Fish

Finishes 36" x 47" Wonky strip piecing & easy applique shapes make this cool school of mod fish fun to stitch!


Oh Baby

Pattern for 40" x 40" Quilt and Matching Baby Boot


Pretty Playtime Quilts - Softcover

Six Charming quilts to treasure for girls, big and little, who aren't quite ready to grow up yet! Projects (including a tooth fairy pillow and a breathtaking sampler quilt) bubble over with charm, imagination and whimsy.


Safety First Funny Panel 24 x 44

Safety First Mask Panel 24 x 44 Get FREE Yard of Pink , Aqua, Reg & Green Elastic with each panel purchased, while supplies last!


Safety First Holiday Mask Panel
Sew Magical For Baby

Sew Magical For Baby


Super Hero

Makes quilt sizes 24" x 28", 36" x 42" and 48" x 56"


Time To Harvest

Finishes 63" x 69"