Basket Pop Up Pattern for 3 Sizes

Make an adorable handled basket for gifts, Easter, flower girls and more! Folds away for easy storage. Directions for Small 5-1/2"D, Medium 8"D and Large 10-1/2"D. Wire Pop-Ups sold separately. See suggested products.


Be Bowl Fillers 1806 All Through The Night

6 preprinted backgrounds included in this pattern


Birdy Cushions

Rooster 15" x 15" Birds on Branch 15" x 20"


Booklet Pouch

Booklet Pouch *


Ditty Bag

Finishes 7-1/2" x 9"


Gadget Cushion Panel (Makes 2).

All you need is a 10" x 10" piece of fabric and permanent fabric or craft glue! Each panel makes 2 Gadget Cushions Need one bag of crushed walnuts for each cushion


Hot Stuff Trivet and Pot Holder Small

Hot Stuff Trivet and Pot Holder Small


I'm All Ears Bunny Drawstring Pattern

You simply can't get cutter than this! I'm All Ears Lined bunny draw string bag Finished size 5" x 7" x 2"


Inside Outside Pouch

Inside Outside Pouch *


Make And Go Pouch

Make And Go Pouch *


Mini Pop-Up & Pattern

Contains Extra Small 3" pop-up spring, elastic, label and pattern.


Moda All-Stars: Soft Spot Book of Pillow Patterns

17 Quilted Pillow and Comfy Cushion Patterns all in ONE Book!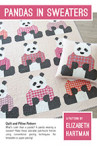 Pandas in Sweaters Pattern

Pattern for 24" x 24" pillow, 46" x 50" small quilt and 66" x 72" large quilt.


Project Bags 2.0

Four versatile sizes with zippered vinyl window, sturdy quilted bases and two options for bottom border.


QAYG Mug Mats Log Cabin

QAYG Mug Mats Log Cabin


Room With A View

Sturdy Zippered bins with vinyl windows in three sizes


Ruffled Zipper Pouch Pattern

A 2 Fat Quarter Pattern! Pouch finishes at approx 4-1/2" wide x 8" long and 5" high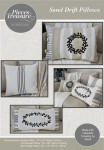 Sand Drift Pillow Patterns

Pattern for Square Pillow: 16" x 16" Oval Wreath Pillow 16" x 28" Mini Wreath Pillow 22" x 15" Pillows on cover made with Lakeside Toweling by Moda (See links below to shop the Lakeside Toweling Collection)


Stacking Pop-Ups by The Fat Quarter Gypsy

Stacking Pop Up Pattern


The Tech Organizer

This 7-Pocket Tech Organizer keeps everything in its place and visible at a glance. Approx. 6-3/4" High x 9" Wide


Umbrella Pattern Book

Umbrella Pattern


Nesting Table Topper

Nesting Table Topper


2 Fat Quarter Bucket

5-1/2" x 4" x 7" - Only takes 2 FQ's and a 12-1/2" x 21" piece of Decor Bond 809 to make each one! See separate listing below for Decor Bond 809.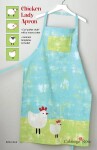 Chicken Lady Apron

Chicken Lady Apron


Coaster Ride

Coaster Ride


Forget Me Not

Charming set of 3 mini pillows or pin cushions using embroidery, cotton & wool. Sizes: 4" x 6", 5" x 5", and 6" x 8"


Inessa Jane Infinity Scarf Pattern
Lets Sew Candle Mats Vol 1

Lets Sew Candle Mats Vol 1


Silicone Coaster Refill

Silicone Coaster Refill