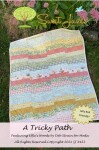 A Tricky Path Pattern

Easy Peasy! Finishes 38" x 42" Uses 21 2-1/2" strips or 10 Fat Quarters (or more for variety)


Astria Quilt Pattern #2101

Pattern offers instructions for 2 different colorways or choose your own! Finished size approx 66" x 87"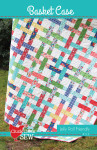 Basket Case

Jelly Roll Friendly pattern for various size quilts.


Brightly

Brightly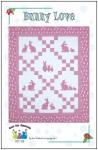 Bunny Love

Bunny Love


Butterfly Patch

Butterfly Patch


Chicken Scratch

Chicken Scratch


Cloudberry Tart Quilt Pattern

Cloudberry Tart


Diamond Dust

Diamond Dust


Electron

Electron


Fancy Forest

Fancy Forest


Flags Waving 70-1/2" x 78-1/2"

Finishes 70-1/2 x 78-1/2" Pattern requires: 1-3/4 yd white, 1/2 yd medium navy, 1-1/4 yds navy with white stars, 1/2 yd red print #1, 3/8 yd red print #2, 1-1/4 yds dark navy (includes binding) and 1-1/2 yds for border. Requires 6 yards for backing.


Frosty Fun Quilt Pattern

46-1/2" x 57-1/2" It's snowing, let's go outside! With rosy cheeks and toasty toes, we're ready for some frosty fun.


Hat Hat Hooray! Quilt Pattern

The snow is blowing and it's cold outside. Handmade hats and warm scarves will chase the chill away. Pattern makes 4 sizes, nap, lap, twin and full.


Hearts & Heartstrings

Hearts & Heartstrings


Infinite

Infinite


Just Can't Cut It

Directions and fabric requirements for Lap, Baby/Tablecloth, Child, Twin, Full, Queen & King Size


Laurel

Laurel by Brenda Riddle Designs 51" x 63"


Layers Of Charm

Layers Of Charm Finished Size: 72-1/2" x 90-1/2"


Liberty

Liberty


Life is Beautiful

62" x 71"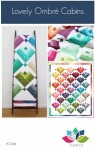 Lovely Ombre Cabins

Lovely Ombre Cabins finished size 75" x 92"


Midnight Crossing

Quilt Size Approx 69" x 69"


Notes to Self Quilt Pattern

A beginner friendly foundation paper pieced pattern for 4 sizes: Mini, Baby, Throw and Twin.


Ombre Picnic

Finished Size 68" x 82"


On Key

On Key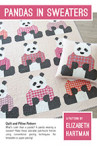 Pandas in Sweaters Pattern

Pattern for 24" x 24" pillow, 46" x 50" small quilt and 66" x 72" large quilt.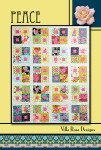 Peace

Peace


Picnic Quilt

Picnic Quilt


Pilley Posies

Pilley Posies


Reflections Pattern

Finishes at 76" x 85"


Sea Salt Quilt

Quilt on cover made with Lakeside Toweling by Moda Finishes 80" x 80"


Snowflakes In July

Snowflakes In July


Square Burst

Square Burst


Squared Up Quilt Pattern

A Beginner Friendly Quilt Pattern Precut Friendly - Uses 10" Squares Pattern includes fabric requirements and directions for Baby, throw, twin and queen sizes.


Star Of Wonder II

Star Of Wonder II


Striped Delight

Striped Delight


Sugar Squirrels

Sugar Squirrels


Tea Cats Quilt Pattern

10" Square friendly! Finishes at 74" x 74"


The Puppies Pattern

Pattern to make 2 quilt sizes (40" x 52" and 66" x 66") and a 20" x 20" pillow.


Toasted Marshmallows

Toasted Marshmallows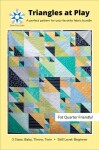 Triangles at Play Quilt Pattern

Fat Quarter Friendly Quilt Pattern Makes 3 sizes: Baby 33" x 48", Throw 48" x 60" and Twin 69" x 90"


Twitter

Twitter